17 Oct 2013

10:36 PM
Klaus Bartosch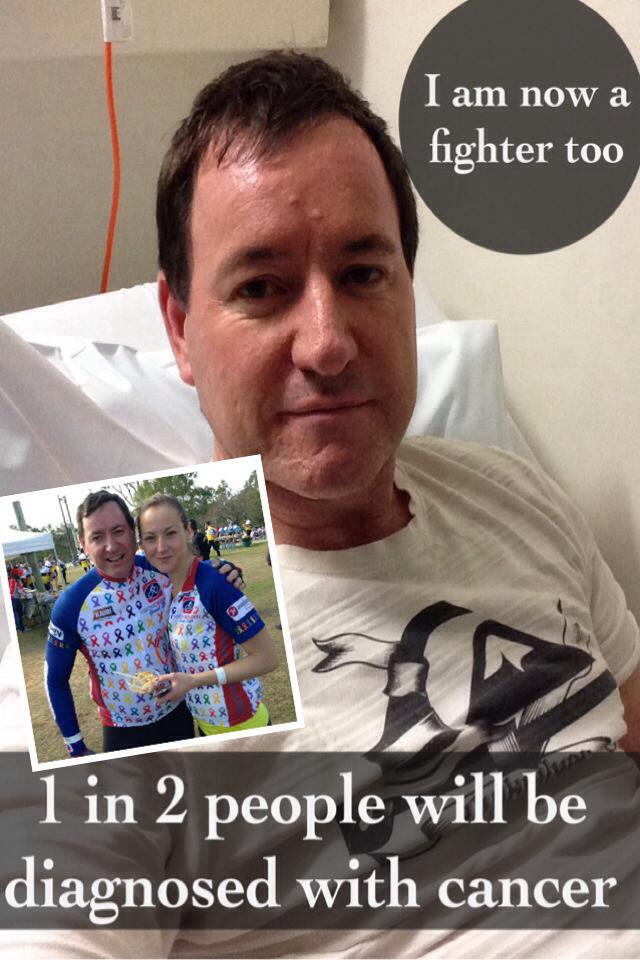 Vision Crusaders Grand Slam team captain and the man with the dream to completing all 6 Rides to Conquer Cancer event in Brisbane, Sydney, Melbourne, Perth, Auckland and Adelaide was unexpectedly diagnosed with Acute Promyelocytic Leukaemia just 3 days before the team completed their second RTCC event. This amazing team has raised $175,000 towards Cancer Research so far in support of completing the Grand Slam.
Earlier this year I had a grand plan. Its goal was simple enough. How to inspire many more riders to join the Rides to Conquer Cancer events in Australia and New Zealand and see raising the min $2,500 donation eligibility target as not difficult at all, not the 200km that need to be completed on a bike over 2 days. Why? To help raise as much money for Cancer Research as I could, directly or indirectly. Earlier blogs explain why I am passionate about this cause but I will touch on it here.
I completed the inaugural Ride to Conquer Cancer in Brisbane in 2011, which has been responsible for kicking off this whole amazing journey. At the time, I was inspired by the encouragement of my Personal Trainer, Damian Glynn who helped me lose weight and get fit, but who did not know that I was a Cancer Survivor (Melanoma in 2000) when he mentioned the Brisbane ride as a possible new goal. It kicked off what has now become the "Vision Crusaders". And to date, my teams since 2011 have raised over $250,000 towards cancer research. The Original Brisbane Ride to Conquer Cancer raised $4.7m. These rides make an impact. Make no mistake about that!
But let's get back to the Grand Slam for 2013. All 6 rides. Each rider has to raise $15,000 ($2,500 per ride) to be able to ride, and still get to each City to ride – travel costs. Well little did I know that within a matter of only a week or two the word went round that there was this crazy guy with a crazy idea? Robert Dixon, a RTCC veteran, Cancer Survivor himself and committed RTCC rider joined immediately. Before long, 22 other amazing people would join the Vision Crusaders 2013 team to complete the Grand Slam. Wow!
We completed the Brisbane Ride to Conquer Cancer. Our first as a team in August. See pics etc on our team facebook page at www.facebook.com/visioncrusaders which now has almost 15,000 followers. All of us where there. It was an amazing emotional and exciting experience. No one could ignore us now. We were off! Sydney here we come. Ride #2.
Training continued in preparation for the Sydney Ride to Conquer Cancer, which commenced 12th October. I was fit and healthy. Early October my Arthritis in my knees started to play up quite badly. The joys of being 51 I guess. Way more than usual and I was starting to get concerned that it may interfere with my riding – although it never had before. I can't walk long distances and I can't run, but I can ride like a demon without issues with my knees.
So I made an appointment through my own companies online appointment booking service with my GP (www.1stavailable.com.au) one evening to get a new referral letter to my Rheumatologist. I have little doubt that had I not had that convenience to book it the moment I had that thought (it was at night), that like all men, I would have delayed this for who knows how long. My GP recommended some blood tests to check my inflammation readings. And that is how it all started, although neither he nor my Hematologist he referred me to a few days later felt had anything other than an infection, but a Bone Marrow test was immediately performed to rule out Cancer.
The test was performed the morning of 8th October. At 9:30pm that night I got a call from home from my specialist "Klaus, I need you to get to the Emergency Room of the Hospital immediately. You have Acute Promyelocytic Leukaemia. I will explain everything when you get here. I am on my way."
"Gob smacked" doesn't begin to describe how I felt. "Cancer again? Really? Me?". "What is this new disease? Will I survive it? Better google it. No Grand Slam? Shit, how do I tell my team. Shit. My dream to complete it shattered. Shit. My wife has just asked me who that was on the phone and I now need to tell her. Shit. Shit. Shit".
Treatment began that night. I have now completed Day 9 of Chemo at the time of writing this blog. The support I have received from my beautiful wife, my family, my friends and especially the Vision Crusader team whom I regard as a very special extended family, those involved with the RTCC events (cyclists, sponsors, executives, volunteer's etc), has been nothing short of extraordinary to me.
My now Personal Trainer, Tyrone Jensen from Tight Fitness Solutions in the Gold Coast and one of his clients (and family friend now), Rebecca Wood surprised me on Monday by delivering a brand new Spin Bike to my Hospital room so that I could continue to train through treatment and in some way, be there riding with my team. The impact of this gesture has been enormous. Not just on my mental state but also to contributing to my getting better, faster.
My Daughter Felicity decided on Sunday 13th October that she would join the Vision Crusaders and complete the Adelaide Ride to Conquer Cancer (last for the year) with my team in honor of her dad. She is 22, has never ridden seriously before nor raised money for charity like this before either, but the determination in her eye looked familiar to me! Wow.
So here I am. In hospital, receiving special treatment. I cannot leave my room for 1 month, but should be released from Hospital at the end of the month if all progresses well, and will continue to receive treatment while living at home. So the countdown has begun!
The good news is that my prognosis is excellent. "Cure" (I couldn't believe that word was being used with Cancer) is the likely outcome for me with this particular disease. 95% likely in fact. Great odds. I am in good shape and young. Fortunate given the intensity of the treatment my body is being subjected to. Kick Cancer's butt I will. Of that I am 100% certain.
So you see. Anyone, at anytime can get Cancer. When they least expect it. That is why I am so passionate about raising money for Cancer Research and these rides are impactful with 100% if donations going to cancer research. One in Three Australian's (and one in Two Queenslanders) WILL get Cancer in their lifetime. I mean – that is a serious statistic right?
So I know what I am doing about it. What will you do? Why not donate to riders of the RTCC events? 100% goes towards Cancer Research to find a cure. It doesn't matter if it is $10, $100, $1000 or more. What matters is that you donated. Its an investment in your own future health, that of your family, friends and colleagues. So what's stopping you? Do it now. Links to our team donation pages can be found on our home page if you are interested. You may also send me an email to klausb@ngigto.com if you like. Frequent Flier donations to the team are also very welcome – they still need to get to each of the rides.
Regards,
Klaus