Vision Crusaders - Raising Money to Help Conquer Cancer
Raised to Help Conquer Cancer
In 2013, we started with a call out to Sir Richard Branson to help..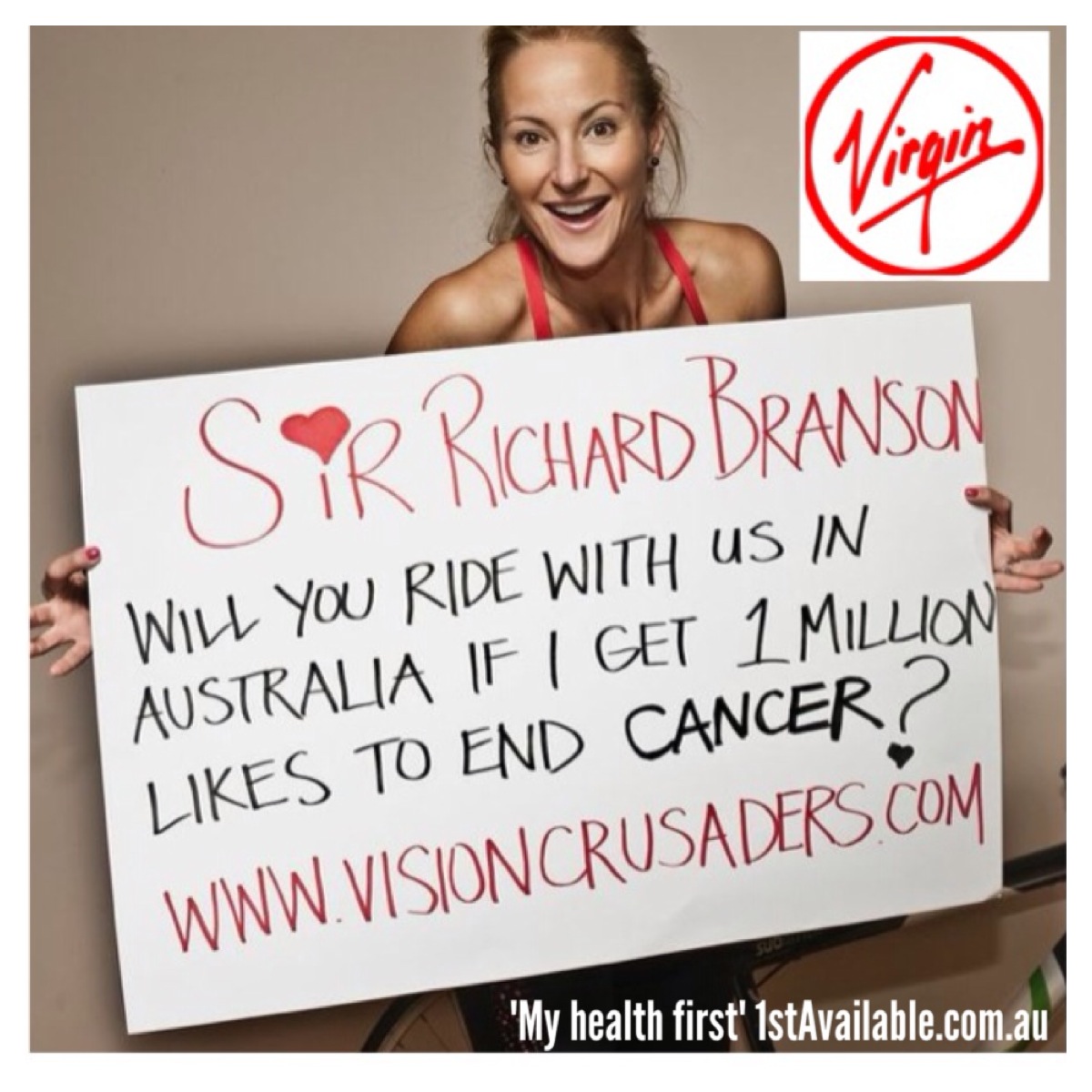 And the great man responded a few days before our first ride!!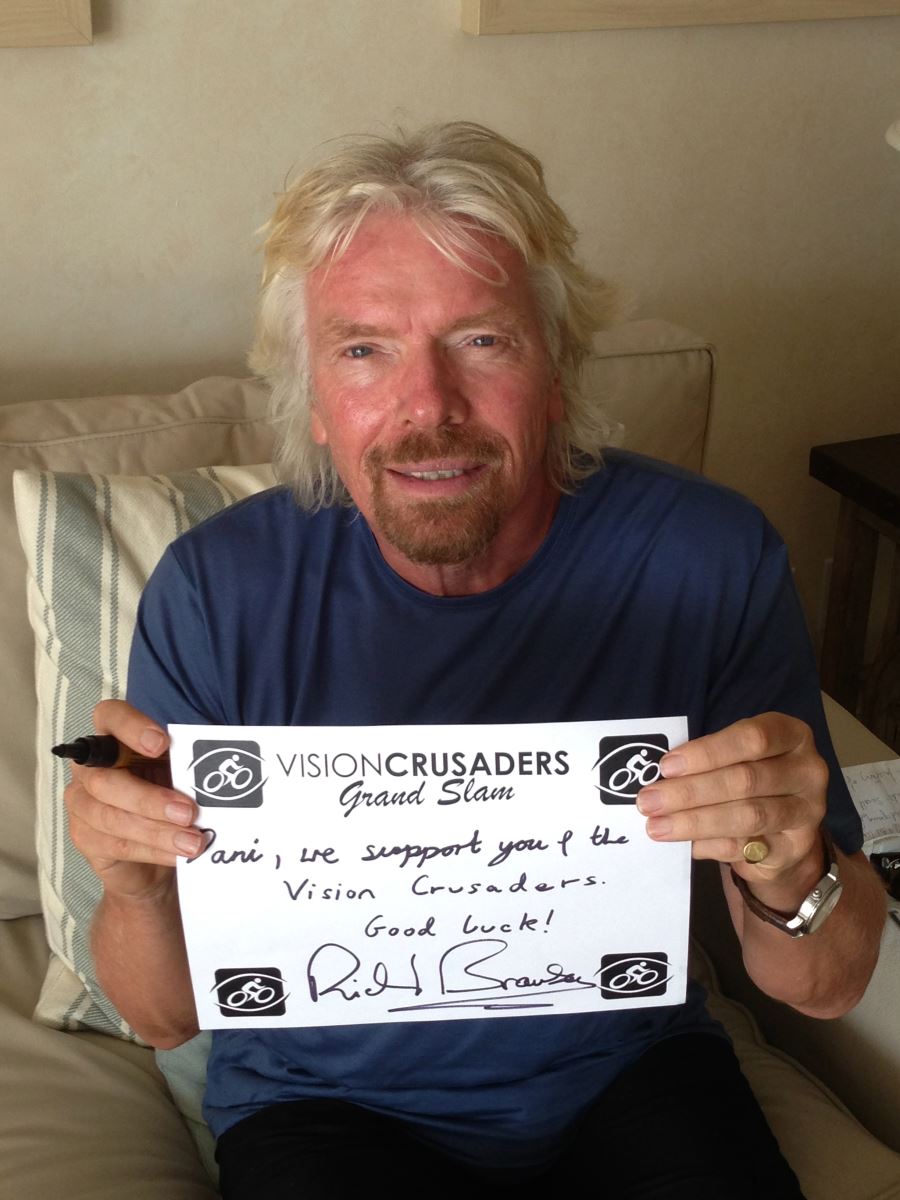 And read his blog to Dani, Klaus and the Vision Crusader

by clicking here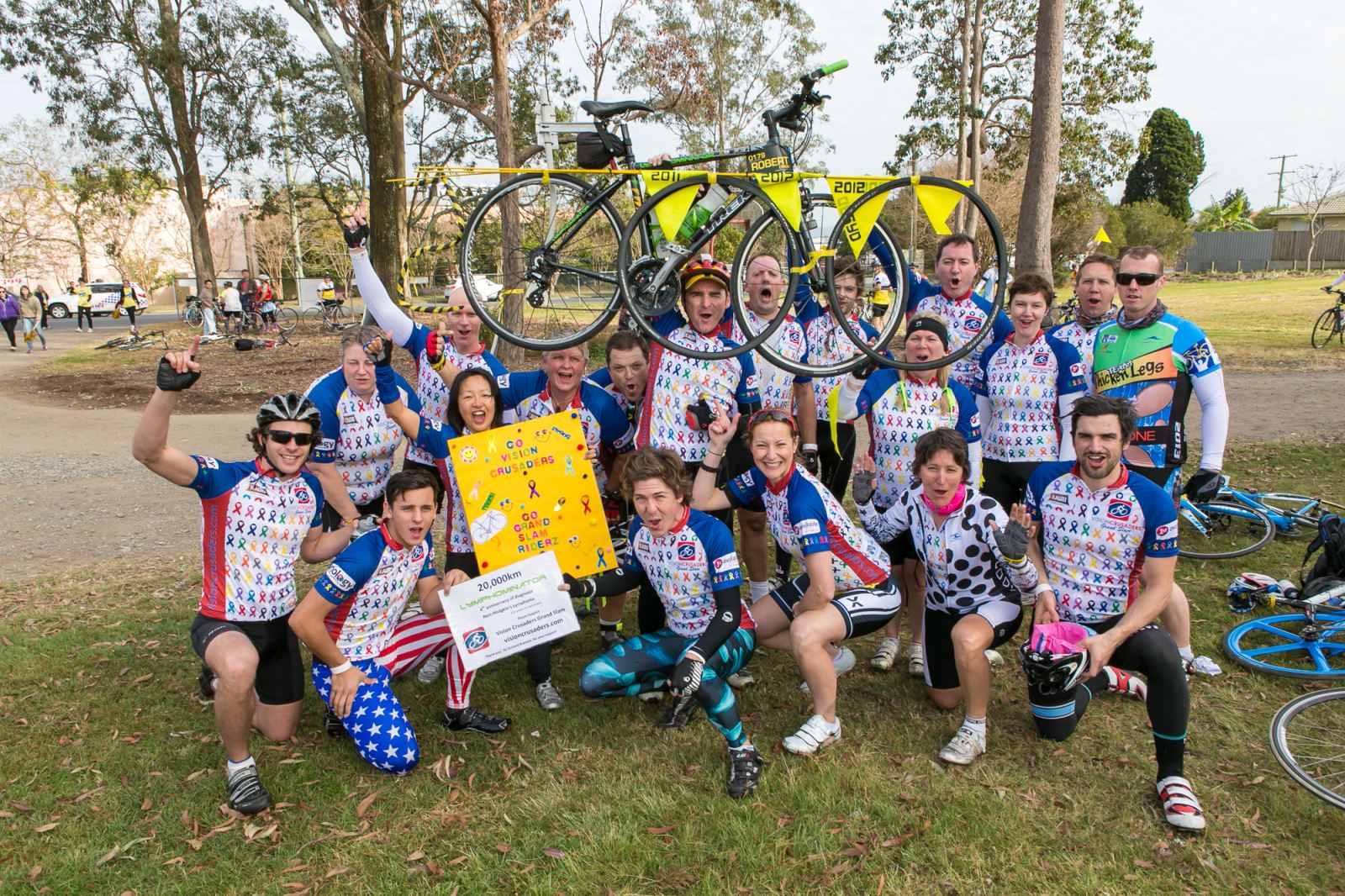 The amazing 2013 Vision Crusaders Grand Slam Team!
(story behind picture: celebrating with fellow teammate Robert Dixon's 20,000km cycling since diagnosis)
Want to help us end cancer?
Start by LIKING us on Facebook: Please help us by clicking on this Link and "liking" our facebook Fan page!! It's costs you nothing and is a huge help to us!
We raise money for Cancer research through the amazing Ride to Conquer Cancer events in Australia and New Zealand, and will be joined by thousands of other riders, some of who like some of us, are Cancer survivors.
We believe in a simple dream. A dream to see the world free of cancer and other diseases. We know it is not a simple problem to solve, but we have set ourselves a huge challenge for 2013. To complete what we have called the "Grand Slam". All 6 Rides to Conquer Cancer (see www.conquercancer.org.au and www.conquercancer.org.nz for details), in Brisbane, Sydney, Melbourne, Adelaide, Perth and Auckland. Over 1200km, over 12 days from August to Nov, requiring us each to raise a minimum of $15,000 plus our travel costs to be eligable to ride in each event.
We hope you will help us? Please "like" our facebook page, and if you are able, please donate to our team members by clicking on the links at the bottom of the page.
You can also purchase supporter clothing including a Grand Slam jersey - and it all helps us complet the Grand Slam. BUY YOUR VISION CRUSADER SUPPORTER CLOTHING BY CLICKING HERE
WANT TO DONATE? Then click on one of our rides below:
(click on links for details or to donate)
COMPLETED: Ride to Conquer Cancer (Brisbane) August 17-18
COMPLETED: Ride to Conquer Cancer (Sydney) Oct 12-13
COMPLETED: Ride to Conquer Cancer (Perth) October 19-20
COMPLETED: Ride to Conquer Cancer (Melbourne) October 26-27
Ride to Conquer Cancer (Auckland) November 17-18
LEARN MORE: Vision Crusaders Grand Slam Team
With our bikes, helmets and lycra, we ride to Conquer Cancer. It all began when we first joined as a team for the Rio Tinto Ride to Conquer Cancer in August 2011, to ride 240klm over 2 days. We raised $50,000 between 15 of us. $4.7m was raised by 1355 riders towards cancer research from that ride. We were proud of our achievement and it has snowballed what we now call team "Vision Crusaders".
Any rider can join our team that share our dream. All are welcome. Inquire now.
Has cancer affected your life, your family, friends or colleagues? Have you wanted to make a difference but did not know how? Please review content on this website should you wish join our team, donate to a rider or our team, or become a corporate sponsor by donating to our rides, then contact Klaus Bartosch, team captain on 0414992811 or klausb@ngigto.com.
Want to be a part of the RTCC 2013 "Grand Slam"?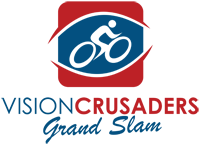 Ok, I know I might be crazy, but there are 25 of us now with this crazy idea. Our plan is simple enough, complete all 6 Ride to Conquer Cancer (RTCC) rides during 2013; Brisbane, Sydney, Melbourne, Adelaide, Perth and Auckland. There are two obvious challenges; sponsorship ($2500 donations required for each ride for each rider to be eligable to each each ride, so $15,000 each, plus travel costs), and the time to be able to do the rides (travel on a Friday to the location, travel home on a Sunday - repeat for next ride). Team members are committing to do at least 2 rides or more. Not all of us will do all 6 and that is ok. Some may only end up doing one, and that ok to.
Some (not all) of the Grand Slam team already have "home" teams, that is, teams that they ride in for their normal RTCC rides (mine is Brisbane). You should stay in those (unless you dont want to), and join the Vision Crusaders Grand Slam team in each other location that you plan to ride.
So ask yourself a) do I want to do the grand slam? b) Can I cover at least the donations needed for my home ride and am I willing to make an effort to contribute donations to the other locations, c) Can I help elsewhere to help promote this great cause?
A sponsorship prospectus has been developed. If you are a an interested business/corporate sponsor, please contact me.
We are determined to succeed, but it will only happen with your help!
One great way you can help, that costs you nothing, and you can do it right now, is please also consider "liking" our Grand Slam Facebook page at this link.
So if you would like to register interest, please send me an email to klausb@ngigto.com or call me on 0414 992 811.
Rides Completed by Team Members so far:
Peddle for Prostate Cancer (Gold Coast - 100klm) 2011
Rio Tinto Ride to Conquer Cancer (Brisbane - 242klm over 2 days) August 2011
Enbridge Ride to Conquer Cancer (Toronto to Niagara Falls - 277klm over 2 days) June 2012
RideGC Prostate Cancer (Gold Coast - 100klm) June 2012
Rio Tinto Ride to Conquer Cancer (Brisbane - 220klm) August 2012
THANK YOU FOR HELPING US!!