Auckland Ride To Conquer Cancer - November 2013
Vision Crusaders Grand Slam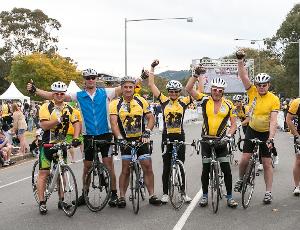 The journey started at the first RTCC Brisbane Ride in 2011. Since then, the Vision Crusaders have completed the following RTCC rides in Brisbane 2011 (240klm), Toronto-Niagara Falls 2012 (270klm) and Brisbane 2012 (220klm) so far. Over $80,000 has been raised to date.
We believe in a simple dream. A dream to see the world free of cancer. We know it is not a simple problem to solve, but we are up to the challenge with our bikes, helmets, lycra, your encouragement and donations.
In 2013 though we have set a higher challenge. The RTCC ?Grand Slam?.
The RTCC "Grand Slam" has never been done before. We are all motivated by the same cause and belief, and most of us are cancer survivors. We will drive significant national media interest and hopefully inspire many more to join these very important rides.
Not all team members will participate in more than one ride, and not all will do all rides, but for those willing and able, watch us try!
It may be a crazy idea, but then it is the crazy ones that change the world! 5 RTCC rides this year, over 1000 klms! Brisbane, Perth, Sydney, Melbourne and Auckland. Supported by Corporate Sponsors and the efforts of riders. If you want to join us, you may continue to ride with your chosen team for your local RTCC ride, but consider join Vision Crusaders Grand Slam Team in other locations if you intend to do 2 rides or more!There are 5 of us already committed to seeing if we can pull this off, and others doing 2 or more of the RTCC rides. If you would like to join please let me know ASAP. If you are a corporate and have interest in sponsoring such an important quest, we would love to hear from you. It would mean joining "Vision Crusaders Grand Slam Team", an extension of www.visioncrusaders.com.
The Rio Tinto Ride to Conquer Cancer benefiting the Queensland Institute of Medical Research is an epic cycling journey throughout Queensland's scenic countryside.
Proceeds will support breakthrough research, exemplary teaching, and compassionate care at TQueensland Institute of Medical Research, one of the largest research institutes in Australia and across the southern hemisphere.
The Sponsors
The Crusaders